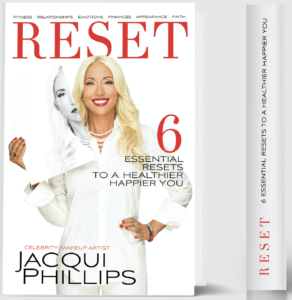 RESET is a new book debuting October 26th, 2017 just in time for the holiday season by Celebrity Makeup Artist, LifeStyle Coach, and Radio/TV Host Jacqui Phillips.
RESET tackles 6 categories: Health/Fitness, Relationships, Finances, Emotions, Appearance, and Faith.
Phillips inspires us that it is never too early or late to RESET. No matter how far off track an area of life seems to be, she gives the courage to start anew. Whether you are in need of a small RESET or big RESET, this book will provide the tools and give you the courage to embrace them and make a change.
Phillips discusses how she went from bankrupting a business, failing in relationships, gaining weight, and losing her health to recreating not only herself—but also creating a life that turned all that pain into purpose.
More than just motivational, RESET is also practical. You will be able to create your own RESET as you read through each chapter and participate in the questions she has presented.
You will learn that "Forgiveness = Freedom" and how to "Love The Problem Away," but not until you first lose "Spiritual Weight" and learn to "F.L.Y." (First Love Yourself)!
RESET is a raw look into ideas we are all familiar with: unfinished goals, dreams not fulfilled, heartbreak, and financial tragedy. Any of these can leave us broken, paralyzed by pain, and in need of a RESET to escape the hamster wheel of repeating circumstances.
Join Jacqui Phillips in her RESET so you can have your own! You will be glad you did and better for it. This is a book you will want to not only read, but also to share as a gift for the holiday season!